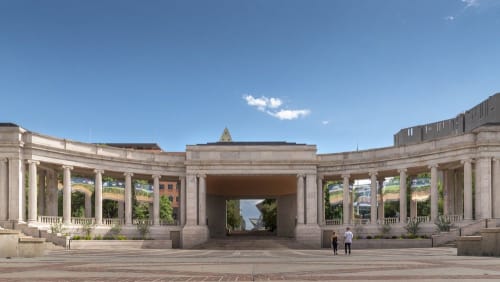 Image credit: Artwork by Theresa Clowes, Photography by Third Dune Productions, @thirdduneproductions

+11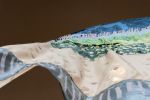 This site-specific textile installation by Theresa Clowes celebrates the 100-year anniversary of Civic Center's Greek Theater. Clowes found inspiration in the City Beautiful Movement, the Theater's Turkey Creek sandstone structure, its Allen Tupper True murals, and the Park's iconic place as the nucleus of Denver's civic life. Each layer represents a quarter century of time and pays homage to Colorado's landscape. Clowes incorporated quotes from Denver's mayors, painted leaves collected from the Park, bottle caps symbolizing the craft beer movement, and clouds suggesting the state's big sky into the design. The abstract, meditative installation invites viewers to slow down, look closely, and stay awhile.
Commissioned by Civic Center Conservancy for Art in the Park 2019 and sponsored by Xcel Energy Foundation with advisory support from Denver Parks & Recreation and Denver Arts & Venues
Curated in collaboration with Castle Searcy
Installation assistance from Drew Austin and Katie Kruger
Documentation by Third Dune Productions
Have more questions about this item?