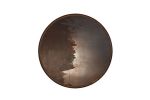 +1

Porthole Mirror - Art & Wall Decor
Designed in 2016
A carefully constructed ring produced from 12 pieces of wood joined and splined by 12 more pieces of wood. The effect is a frame with joinery decoration on it's edges with a clean front.
The profile includes a bead detail around the face emphasizing the thin weight of the frame.
26" D, 36" and 42" Diameter, 1.75" projection
Solid wood frame- whitened ash, white oak, oiled walnut, blackened oak
Have more questions about this item?