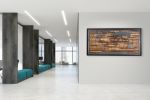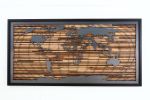 +3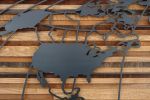 World Map artwork - Art & Wall Decor
Featured In Harvard University, Cambridge, MA
This art piece is a combination of reclaimed barnwood and a world map that is cut from 1/16" thick raw steel.
The frame is made of Poplar hardwood stained in a dark espresso finish. The barnwood strips measure ½" wide and vary in depth to give the art piece some depth. All the various brown and grey colored strips of wood are completely natural in color; there is no stain or paint that has been applied to the inner pieces. I then applied two coats of low VOC water based sealer in a matte finish to preserve the art piece.
Have more questions about this item?