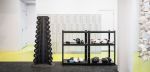 Facet Divider - Art & Wall Decor
Featured In Workoutclub, Rotterdam, Netherlands
Custom Options Available.
Ask The Creator
For Customization.
Hanging room divider Facet 272 x 217cm in White
Ceiling attachment length: Adjustable length
Screen height: 217cm [85.4″]
Total height: 217cm [85.4″]
Width: 272cm [107.1"]
Color: White
A MODULAR SYSTEM PERFECT FOR CUSTOMIZATION.
Facet has a modular system and is made to order. This means you can measure the exact dimensions you want it in and we will make it according to that. In this showcase, interior designer Linda Lagrand used Facet in the Workoutclub in Rotterdam, The Netherlands. It is the perfect separation between the leisure area and the workout area. The divider has a width of 272cm and a screen-height of 217cm. For the ceiling attachments she choose the adjustable-lenght wire system. These are made of really thin (1mm) stainless steel wire and easy to adjust in lenght while installing. Thank you Linda Lagrand Interior Design for the beautiful interior, Facet is in good company!
Shipping: FedEx 4-5 days
Free Shipping in the US, ask the creator about international shipping.
Estimated Arrival: February 5, 2022
Returns accepted within 10 days
See details
Have more questions about this item?