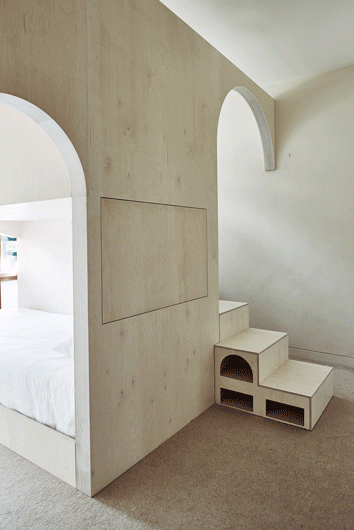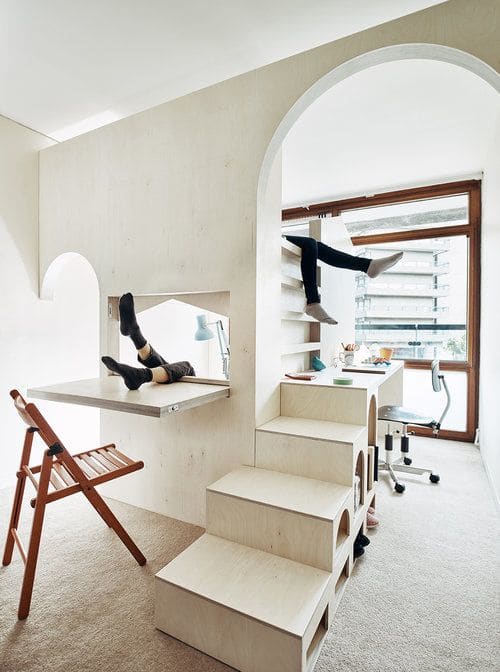 Image credit: Michael Sinclair




+8

A Room For Two
Our project to create a bedroom for two siblings in London's Barbican Estate has been featured in Dezeen, The Sunday Times, Barbican Life magazine and in the book Homework published by Thames & Hudson. It was listed as one of Dezeen's top ten residential interiors of 2017.
Designed for a flat in London's Barbican estate the brief was to create a space for his two children to sleep, relax, play, read and work when they stay there at weekends. It was important to provide an engaging space for the children that also made reference to the architecture of the Barbican estate.
Within one room the proposal creates two interconnected but distinct spaces, one for each child thus allowing them to socialise and connect whilst also having their own privacy. Inspired by the painting St Jerome in His Study by Antonello da Messina, our departure point was to create an installation, that is as much a small piece of architecture as it is a piece of furniture. By playfully separating the space it both divides and connects, framing views out to the estate and creating an architectural dialogue between siblings. Two arches create notional thresholds and a sense of enclosure to each of the children's spaces, as well as referencing the surrounding Barbican architecture. Within each of the spaces pitched roof forms, one positive, one negative, symbolise each as a personal petit maison.
To provide for a variety of social and play activities as well as future reconfiguration, the desks can be folded away or moved. These, along with shared elements such as the step shelving allow the whole ensemble to be used in a variety of different ways. The workspace for the elder of the siblings is more private reflecting her greater independence and need for quiet study space, that for the younger is closer to the main flat and more accessible for parental input.
In order that the final installation reads as one coherent whole, it has been fabricated from one durable, natural material, namely (lightly stained) Birch plywood. Working closely with the fabricators, every element was CNC cut as a kit of parts that can be easily dismounted and reassembled for future use.
The installation has proved a success with its occupants, providing them with an engaging and playful series of spaces and enabling them to happily share one room side-by-side.
Project Lead: Omar Ghazal
Photographs by Michael Sinclair
Fabricator: Top Notch Joinery
Send an inquiry to the Creator to buy/commission a piece like this
in
Private Residence
, London, United Kingdom