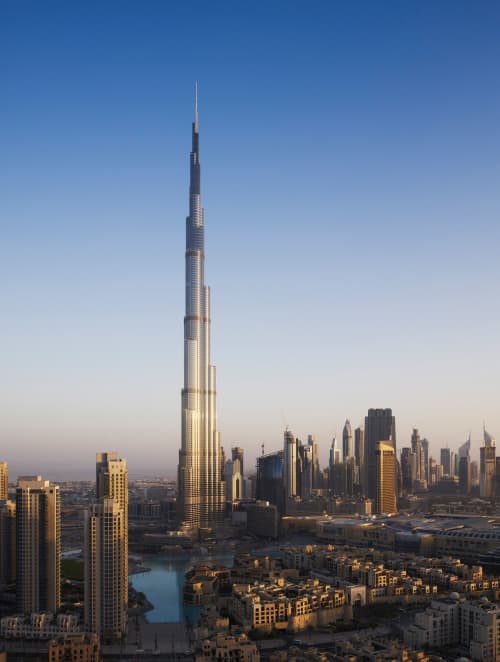 Image credit: 1-5 Nick Merrick © Hedrich Blessing; 6 © Samar Jodha | Spectra Maxima International


+4

Burj Khalifa - Interiors - Architecture
Featured In Dubai, United Arab Emirates
With over 3 million square feet of interior space at Burj Khalifa, planning and interior design of the building's interiors began at the earliest stages of structural and architectural development. The SOM design team worked towards attaining three main goals—to recognize and acknowledge the building's epoch marking height, to integrate its structural and architectural rationale and challenges, and to appreciate the location and region's heritage, history and culture.
A mixed-use program of residential, commercial, hotel, and leisure space make the tower an international destination—and the tallest living and working spaces in the world. The interior design of all lobbies, guest amenities, lounges, offices, board room floor and chairman's suite was completed by SOM and inspired by the dual influences of the building's technological accomplishments and the regional culture and heritage.
This is in contrast to the lower floors, which are inspired by natural elements of the land. Apart from glass, stainless steel and polished dark stones, the interiors also feature Silver Travertine flooring, Venetian stucco walls, handmade rugs, stone flooring and dark, intricate Brazilian Santos Rosewood to reflect shelter, comfort, and above all, restrained luxury.
SOM also developed an art program for the tower which placed and specified over 500 pieces of individual local and international fine art pieces. The premiere featured art piece for the residential lobby, "World Voices," is the work of internationally renowned artist Jaume Plensa.
Have more questions about this item?