Image credit: Serhii Kadulin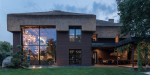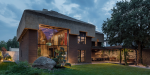 +71

Shkrub*. Thatched House - Architecture
Creator not accepting inquiries
Shkrub house was built by the Ukrainian architect Sergey Makhno for his family. It is located in Kozyn, a village in the suburbs of Kyiv. The house is built in contemporary Ukrainian style under the influence of Japanese philosophy of wabi-sabi that finds beauty and harmony in imperfections. Being almost completely enclosed by a minimalist concrete fence, its character can be seen with half an eye — a proud thatched roof hangs over the wooden rails on the walls. These materials are traditional for both Ukrainian and Japanese cultures.
"Thanks to Japan, I learned to love Ukraine. When I went to Japan for the first time and saw how they appreciate their heritage, I understood that Ukrainian culture is extremely rich but we rarely rate it highly. Japan has given my country back to me. It has opened my eyes and, most importantly, my heart to the wealth I have always had — my homeland. I create Ukrainian design transmitted through the lens of Japanese perception of beautiful", — says Sergey Makhno.
The walls are decorated in the technique used by our great-grandparents for their huts. The space is divided into three parts: an open kitchen, dining area, and living room. This part underwent major changes during the redevelopment of the original house that was here before the architect became its owner.
The ceiling is decorated with wood — we just dismantled 11 old abandoned houses. Giving a second life to things is the best we can do for our planet. As you may have noticed, Sergey is an enthusiastic collector. The most significant part of Sergey's collections is represented at this wall — there are clay products from Trypillia, 5–2nd Millenium BC.
Uniting two floors was the only right solution for this object. All the architects understand that space and light are the best things you can give to any place. A panoramic view of the garden is offered by a huge window.
In a garden gallery Japanese maples and cherry trees met traditional Ukrainian zoomorphic pottery and contemporary art. Here, there are 250 tons of stones and several perspectives, as common for Japanese gardens.
Second-floor planning is simple and ergonomic. There are gallery-hall and bedrooms for the residents. The hall ends with a balcony overlooking the living room and garden — the first thing owners see when they leave their rooms in the morning.
The main focus in his bedroom of Sergey's eldest son is the floor made of a 500-year-old oak. Ivan shares his room with Kaws and ceramic art-toys DIDO created by his father. At the head of the tatami bed — Sumi-e-style monochrome art piece depicting distant landscapes, traditional for the wabi-sabi philosophy.
The wallpapers in the bedroom of the middle son are made by Sergey Makhno. He draws from early childhood, and still, most of his ideas appear on the paper first.
The room of the youngest son is also minimalistic and spacious. The wallpapers are designed by Sergey Makhno and painted by famous Ukrainian artist and ceramist, Serhii Radko.
The head of a tatami bed in master's bedroom is an allusion to a clay cliff as a symbol of all the primeval and its beauty.
"When in five thousand years, archaeologists from other planets will dismantle my house, they will say that it was built according to ancient Ukrainian traditions. That there was a lot of nature, and a lot of life", — says Sergey Makhno.
*Shkrub is a fictitious word the spouses call each other — Sergey and his wife Vlada, who is also engaged in interior design. That's how they are named in each other's phone books.
Team: Sergey Makhno, Oleksandr Makhno, Olha Sobchyshyna, Serhii Filonchuk, Maryna Hrechko
Item
Shkrub*. Thatched House
As seen in
Private Residence
, Kozyn, Ukraine