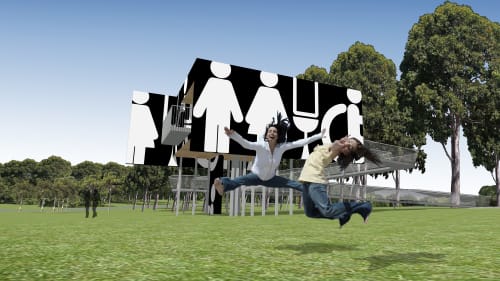 Image credit: Mike Edwards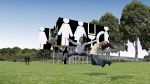 +3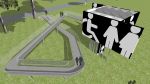 Kenilworth Designer Dunny
The approach was to attempt to provide a bold, elegant, economical and buildable design that met the competition and brief objectives while also solving the functional and technical requirements.
On first sight 'the dunny' is a contemporary cubist utilitarian architectural form, bold, contrasting with and rising above the landscape. Your attention is immediately attracted by the large scale black & white graphics, highly visible and legible at a distance. The graphics obviously show the function of the structure using oversized universal symbols for male, female and disabled toilets. A second, maybe less immediately obvious reading is that of a bizzare, overscaled, abstracted version of a Friesian cow, symbolic of Kenilworth's proud dairy industry.
Have more questions about this item?