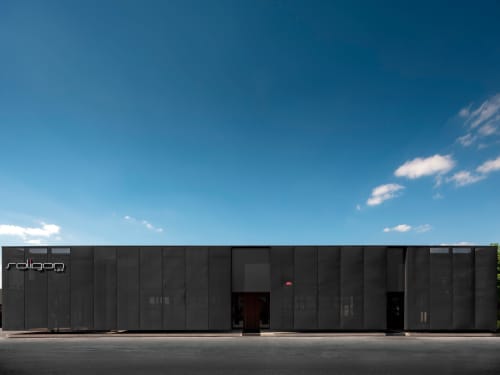 Image credit: Marco Zanta


+18

REFURBISHMENT OF SOLIGON S.P.A. HEADQUARTER - Architecture
Featured In Soligon Spa, Area Insediamenti Produttivi Lovera, Italy
Project approach involves the redefinition of the current architectural volume through an element functional to insulation, shading and shelter from rainfall, which covers the current office building like a second skin, by creating, from the volumetric point of view, a monolith whose austerity is amplified by the mono-material surface. The expressive strenght of the building is emphasized by the hanging façade, detached from the basement, thanks by a metal truss which is carefully sized to ensure structural stability. This hanging volume is highlighted, during the day, by a different surface treatment: a metal net in stainless steel, dark gray, named "Spazzolagrano", with a square wire of 1.7 x 1.7 mm and a square texture of 2.3 x 2.3 mm, in contrast to the light gray paving of the basement, made in washed gravel "Sassoitalia". In the evening, a lighting system incorporated into the structure, will emphasize the abovementioned effect as well as ensuring an optimal lighting of the paths and a view in transparency of the two internal open-air gardens, placed in the two opposite corners of the basement.
Item
REFURBISHMENT OF SOLIGON S.P.A. HEADQUARTER
Have more questions about this item?