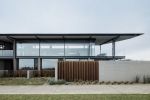 +12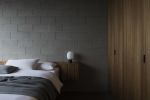 Torquay House - Architecture
The Torquay house is located on the front esplanade with wide-ranging coastal views over Fishermans Beach, Point Danger and the ocean horizon.
The house responds to the streetscape, but presents a sharp edge to the esplanade and onshore winds. Pitching to the north the roof allows sun deep into the upper level, while taking in the coastline and projecting views over the bay. The linear floor plan stretches through the defined structural grid. Lower level rooms promote a sense of refuge and privacy through the integration of honed masonry, concrete ceilings and blackbutt panel, while the upper level reveals a generous open living area with a finer structural format and floating roof.
The steel work and construction has been expertly fabricated and erected to further enhance the refinement and finesse of the canopy over the durable masonry base.
Utility spaces are housed towards the rear and open through internal spaces to reinforce the ocean aspect. Fine external tallowwood screens and panels offer tactility and privacy to the robust palette. Landscaping and fences by others.
Have more questions about this item?