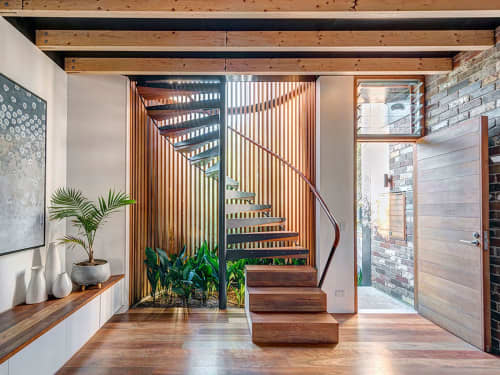 Image credit: David OSullivan, Michael Lassman & Murray Fredericks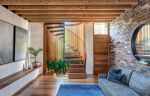 +45

Aqua Perma Solar Firma - Architecture
Located in a former light industrial area, AQUAS PERMA SOLAR FIRMA reconsiders the terrace typology stamped along Sydney's streets without regard for the environment and instead provides a site sensitive response to a functional rather than prescriptive brief. With amenities aplenty at their doorstep, such as Sydney Park which is a short walk away the clients were keen to experiment how their site might work harder for them in the realms of energy and food production, utilising every square metre efficiently.
AQUAS PERMA SOLAR FIRMA is a home tailored to the needs of a modern, environmentally conscious and socially responsible couple. Our most sustainable project to date, it includes an aquaponics system for fish harvesting, rain water storage for use throughout the home, a wicking bed to filter water, compost, a worm farm and chicken coop working in harmony with a productive vegetable garden, an evacuated glass tube solar hot water system and a 3KW photovoltaic power generation system to run the home and charge the couple's electric car.
CplusC were approached by the owners of an existing terrace house in an urban area of Sydney to help them realise their vision of a home that would be the embodiment of their commitment to the environment. The result is AQUAS PERMA SOLAR FIRMA, a beautiful, small footprint home which has reinvented the terrace typology and lifestyle. Vertical circulation is shifted to the front façade and a circular stair is formed by an array of glass and timber battens which doubles as an internal garden. The house combines innovative architectural design with off grid green initiatives.
A primary objective of the design process was to find a way to ensure the design would contribute to the longevity of the building. To this end, a central courtyard provides all internal spaces with superior natural light and access to green spaces despite site restrictions, while planting beds are integrated into the home to improve internal air quality. The brief also called for a versatile primary living space; it should be an entertaining space, a 'work from home' space and should be able to transform into a blank canvas at a moment's notice. The result was a custom, adjustable table which provided the necessary flexibility to change the use of the rear space. The large bench overarches three smaller tables with adjustable height legs, in different configurations they form a place to sit, eat, stand, converse, work, mill and chat. Essential services are aligned along the party wall and the outside once again. Family and friends revel in the joy of cooking and entertaining at AQUAS PERMA SOLAR FIRMA. Guests venture to the rear garden to select herbs, lettuce, a maybe a freshly laid egg before returning to the large bench with a sense of accomplishment. The last thing you'd expect to wake you up to in the city is the squawk of chickens, yet here they are happily chirping away.
The owner's engaged CplusC not only for their architectural services but also to build AQUAS PERMA SOLAR FIRMA. The design fused architectural concepts with permaculture principles inside and out, resulting in a building that was technically demanding to construct. As a result, it was a logical decision to proceed with CplusC to construct the home, given their thorough understanding of the building and their attention to detail. This has made the home a pleasure to live in as well as striking looking.
AQUAS PERMA SOLAR FIRMA is interesting beyond how it looks due to the approach taken to sustainability. Rather than simply ticking off a check list of sustainable features, the design responded to client needs and behaviours, site-specific considerations, the implications of Sydney's climate, balancing environmental outcomes against cost effectiveness and consideration of potential changes in technology or occupant needs for future resilience and adaptability.
The owners commissioned a private report on the house one year after moving in. The overall results show that AQUAS PERMA SOLAR FIRMA is close to carbon neutral, predominantly due to the 1.5kW solar PV system offsetting most of the household electricity consumption with an 84% emissions reduction. Solar hot water also makes a significant contribution with a 17% emissions reduction. The analysis also stated that the residence has reduced its water consumption by 45% through rainfall harvesting which supplies the toilets, laundry and irrigation.
Item
Aqua Perma Solar Firma
As seen in
Private Residence
, Alexandria, Australia
Have more questions about this item?