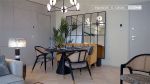 +6

266 Liberdade - Architecture
Featured In Jornal Notícias de Alverca, Alverca do Ribatejo, Portugal
ALGA by Paulo Antunes helped writing this new chapter along with the Portuguese designer Filipa Fleming Alegria, creating and furnishing the model home. Together, they fashioned an inspiring and unique design with clean-cut straight lines and a rustic look using pieces from ALGA by Paulo Antunes' collection such as the Aspen Sofa, Tribo Table, Golden Pen Side Table and the Betty Chair. Furthermore, it was given preference to using materials like velvet, handed carved panga wood, and lacquered ash to achieve a modern design.
The 266 Liberdade model home, located at Lisbon's heart, combines the architectural design of the 40´s and its characteristic elements with a renovated elegant interior for a modern and contemporary design inspired by history!
Have more questions about this item?