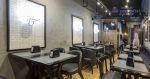 +10

Serra Dourada - Restaurant by Afetto Archtecture
Project to renovate space architecture that was previously used only as a cafeteria, now, is operant as restaurant aswell.
For the renovation, we took the entire quick service structure to the frontdoor and brought inside the space the tables and chairs. We can see the old tablets revestiments, which form details on the walls next to the lamps, and images of São Paulo from the 60s, the year the cafeteria opened.
Have more questions about this item?