Context & Credits
As seen in
Creator's Studio
, Santa Clara, CA
+1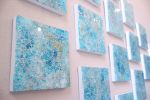 $105
Other size options are available for commission. The price will vary in size. The price does not include shipping.
One of a Kind item
Shipping: $15.00 shipping in the US, ask the creator about the international shipping.
Inquire about Comissioning a Custom piece
Commission time: 2-3 weeks
Item Details
8x8 inch (Acrylic, tempered Glass on wood board)
Colors of nature are layered on wood panel and sealed with glass to create the reflection of light. Price is for each piece.
"Inside the emerald blue water, I picked up the sand and opened my hand underwater. The golden sand slowly started to depart my hand and shimmered away with reflections of light. "