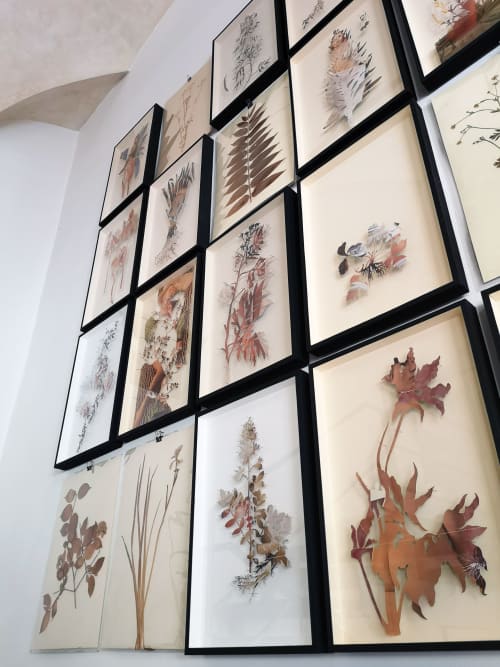 +3

Plant 61 - Box Framed Botanical Cutout, Vintage Centerfold - Wall Hangings
Shipping: FedEx 8-10 days
Estimated Arrival: June 9, 2022
| Dimensions | Weight |
| --- | --- |
| 24H x 16W x 2D in | 2800 g |
YOU CAN LEARN A LOT OF THINGS FROM THE FLOWERS
Plant LXI - Arum tracunculus
Playmen - La Playgirl di Gennaio
2013
16"W x 24"H x 2"D (40.5cm x 61cm x 5cm)
From a series of 99 unique artworks. Main image features a curated selection of multiple artworks, each artwork sold separately.
Hand cut botanical silhouette from vintage adult magazine centerfold, pinned using insect pins mounted on Somerset acid free paper embossed with artist stamp.
Handmade wood box frame with glass using Filmoplast T Black book binding cloth tape and metal ring ready for wall hanging.
Signed label with artwork details on back of frame.
Care instructions: clean with delicate care, avoid wet products on cloth tape.
The project 'You Can Learn a Lot of Things From the Flowers' brings back to light a forgotten collection of preserved plant specimens that was once assembled by a passionate botanist.
Created within the interception and disjunctions of the plant silhouette, the vintage adult centrefolds, which were once the recipient of the voyeur's gaze, has now become a specimen to be studied and analysed. The male sexual projections and stereotypes are mediated and mitigated by the transformation. The plant and the object of desire: the two things brought together are equal. The botanist becomes the voyeur and vice-versa.
In an attempt of preserving cultural resources the artist is adopting, not only the fictitious role of the botanist, but also of the role of the conservationist concerned with the re-materialisation of an appropriated image and concept.
The title of the series is borrowed from the lyrics of 'All In the Golden Afternoon' - the scene of the talking flowers- in Disney's 1951 'Alice in Wonderland'. The project is also a tribute to the wonderful and evocative world created by Marcel Proust in his ode to youth in 'A l'Ombre des Jeunes Filles en Fleur'.
Artwork already framed in hand made box frame. Artwork shipped from London, UK, inquire for shipping cost.
Item
Plant 61 - Box Framed Botanical Cutout, Vintage Centerfold
As seen in
Private Residence
, Firenze, Italy
Have more questions about this item?