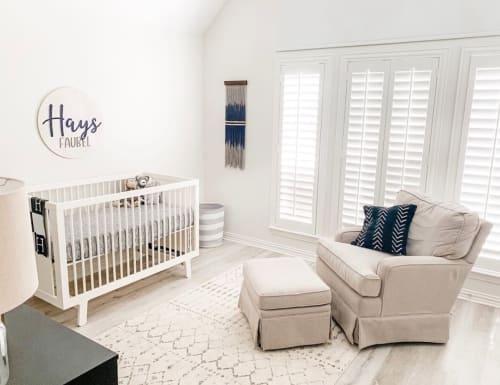 Revolution Mini Tapestry
Starts at $200
Pricing may vary depending on size and design.
The Canvas With Movement® tapestry collection, by artist Lauren Williams, is a series of one-of-a-kind, fiber art created using hundreds of signature wool strands suspended from walnut wood for a modern and sophisticated wall hanging.
The "Revolution" design features light gray fibers suspended from walnut wood. Through the center of the piece, a horizontal wave of dye expands towards the top and bottom. The design includes shades of navy and charcoal, which expand to form an organic wave of blended colors. Two gold metallic lines run through the center of the tapestry to accentuate the shades in the dye scheme. The "Revolution" tapestry is a sophisticated and contemporary addition to any wall.
Send an inquiry to the Creator to buy/commission a piece like this