+5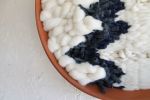 Atlantis - Terracotta & Fiber Wall Sculpture - Wall Hangings
Featured In Reveal Hair Studio, Santa Rosa, CA
Inquire about Comissioning a Custom piece
A twist on classic ceramic art! These burnt orange Terracotta & Wool Fiber Wall Sculptures are made using local clay and wool, hand thrown and woven in from Northern California. The clays natural matte finish and wool fiber make it the perfect statement art piece for your Scandinavian, bohemian, desert, eclectic, mid-century modern, or minimalist home decor vibe.
SIZE & DETAILS
Terracotta Hoop: 20" Outside diameter | Locally sourced and hand thrown
Wool: Natural white, Climate Beneficial & Carbon Farmed high-quality and sustainable Rambouillet Wool roving & natural white, dark & light blue 100% New Zealand Sheep's Wool that is Hand-felted by women in Nepal as they rebuild their lives from the 2015 earthquake and ongoing development challenges.
*This item is made to order so please allow for up 10 days production time prior to shipment. Also please note that due to the handmade and natural materials used that the terracotta ring maybe up to a .5" difference and color maybe slightly different than pictured.
Have more questions about this item?