+3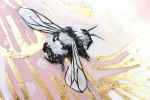 Honey Dew - Wall Hangings
Featured In London, United Kingdom
Custom Options Available.
Ask The Creator
For Customization.
This image was created for a stand at the Innovations Expo at the Excel in London. It is a contemporary piece mixing soft feminine design with aa more masculine linear pattern. I was nominated and a finalist at the show for the Design of the year award."She was like the sun, she knew her place in the world-She would shine regardless of all the storms and changeable weather. Show wouldn't adjust her purpose for things that pass" – Nikki Rowe
Medium: Acrylic and Spray Paint on Canvas Wallhanging
Materials: Original on Canvas
Size: 196x268cm
I made this painting inspired by nature and bees. I wanted mellow colours and the warm gold leaf rivers flowing over the canvas, with a strong contrast of bold geometric lines. Bringing together the natural world and the man made world in a harmonious way.
Its painted on a high quality canvas to be hung as a wall hanging. Its signed on the front and comes with some beautiful cards that can be framed or sent to friends. The painting will be delivered professionally packed for safe shipment.
$150 Shipping in the US, ask the creator about international shipping.
Have more questions about this item?