Image credit: Ansen Seale


+1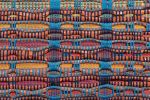 Art Weaving: Sunset - Wall Hangings
Art Weaving in honeycomb pattern with various yarns and plastic bags from newspapers
Size: 45 in x 24 in
I am living in a fast growing metropolitan area where many new apartments and condominiums line the streets. I started thinking of how you could take one structure and still have diverse living spaces for people. They all have in common a rich texture through luscious fibers and sleek plastic wrappers.
Shipping: UPS 3-5 days
$25 Shipping in the US, ask the creator about international shipping.
Estimated Arrival: December 10, 2021
Have more questions about this item?