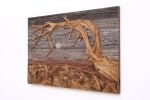 +3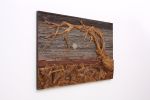 Jeffrey Pine - Wall Hangings
Three years ago I did a hike called Sentenial Dome in Yosemite National Park, California. On the top of the mountain there is the remains of a famous tree called Jeffrey Pine, which was the most photographed tree in the entire park.
The pine was photographed as early as 1867 by Carleton Watkins, and was the subject of a well-known photograph by Ansel Adams. The tree died during the drought of 1976, but remained standing until August 2003.
The photo I posted was taken in the late 90's and I decided to create this landscape in my own artistic way by using geometric shapes. By creating multiple layers it gives the piece more depth and life. The wood used in this piece consist of a mix of reclaimed wood I have gathered over the years from old barns, houses and fences taken down in my area. All the patina on the wood used for this piece is due to the aging and weathering process over many years. I would like to stress that there is no stain or paint used on this piece, only what mother nature created. That is what makes the piece extra special.
Dimensions 60"x40"x2.5"
Have more questions about this item?