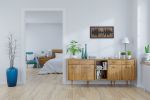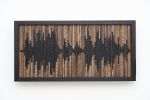 +4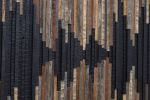 Soundwave "You make it easier when life gets hard" - Wall Hangings
This custom soundwave says "You make it easier when life gets hard" from the song "Lucky" by Jason Mraz featuring Colbie Caillat.
This piece is constructed from reclaimed local barnwood that is over 80 years old. The frame around the artwork is constructed of Poplar hardwood with a black ebonized stain finish. The artwork consists of multiple species of wood cut in strips that are 5/16 of an inch thick which is much thinner then my other small strip artwork, so a great deal of work went into this piece. The dark black sound wave strips are also made of old reclaimed barnwood that were stained the same color as the frame. Each piece is hand selected for its character and natural patina to enhance the beauty of your piece. The darker brown natural woods were those aged within a barn, while grey boards have been weathered outside. Each art piece then has two coats of Zero VOC water based sealer applied to preserve the beauty of the wood.
Have more questions about this item?