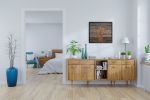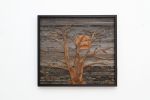 +4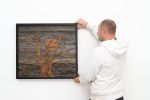 Cedar Tree - Wall Hangings
Featured In 948 Lakeshore Rd 107, Essex, Canada
This piece is inspired by a photo I took hiking in the Eastern Sierra mountain range in California, on hike to Valentine Lake near Mammoth Lake area. This piece is of a very Old Cedar tree that is over 2000 years of age based on the diameter of the tree.
A multi-layered technique gives the piece depth and life. The wood used in this piece consist of a mix of reclaimed wood I have gathered over the years from old barns, houses and fences taken down in my area. All the patina on the wood used for this piece is due to the aging and weathering process over many years. All the colors you see in this piece are completely natural due to the aging and weathering process over time. That is what makes the piece extra special.
This piece can be best appreciated in person; when the light changes in the room and you move side to side the piece comes to life.
A lot time went into the making of this piece, I have logged over 50 hours in just the building process.
Height: 27 Inches; Width: 30 Inches; Depth: 2 Inches
Have more questions about this item?