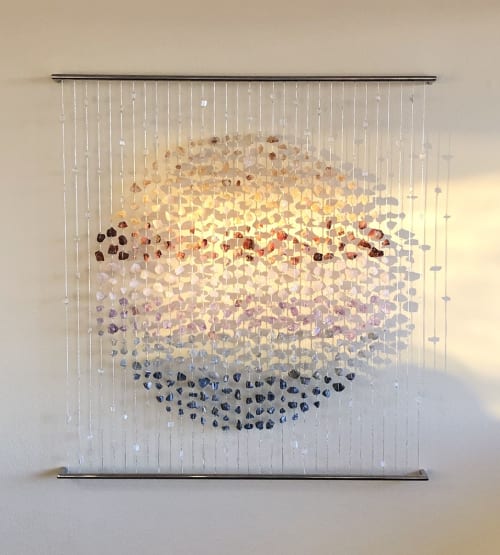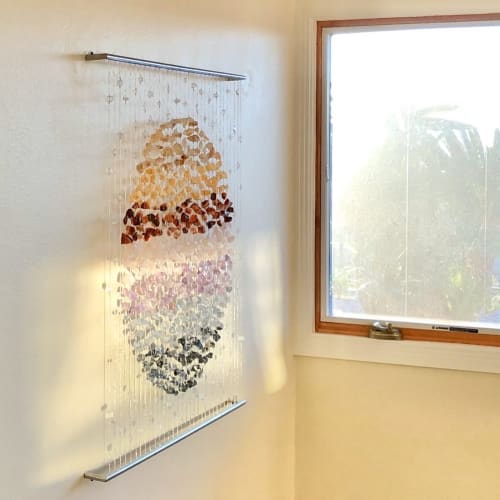 Context & Credits
As seen in
Private Residence
, San Diego, CA


+1

This creator usually responds within 24 hours.
Item Details
For this piece I used crystals connected with each of the seven chakras as a healing meditation.
I used this mediation to balance, realign and cleanse my chakras from my recent move, which was disruptive to my inner grounding and identity.
I wanted the piece to resemble the sun setting on ocean as a metaphor to one's own 'grounding.' In the sense emotions cannot be 'grounded' in water, instead they are dissolved, releasing the energy they held as the sun descends below the horizon.
Crystals used starting from the top:
-Citrine for the solar plexus -Orange Calcite for the sacral chakra
-Carnelian for the root chakra -Rose Quartz for the heart chakra
-Amethyst for the third eye chakra and crown chakra
-Celestite for throat, third eye and crown chakras
-Angelite and Sodalite for throat and third eye chakras
-Clear quartz for crown chakra
size 33" wide by 35.5" height