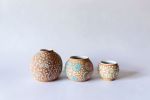 +3
Flower Pots - Vases & Vessels
Other People Want This. 2 People Have This In Their Carts Right Now.
These unique homemade stoneware vases come in three sizes: small, medium, and large. Each pot was thrown on the wheel and then hand painted and carved on the external surface. The inside is glazed white so the pot can hold water. Each design is a unique and one of a kind work of art.
Additional Information:
Heights 2', 3', and 4'" x Width 2", 4", and 5"
Water Safe
Each is a unique handmade design.
Shipping: 1-2 days
$15 Shipping in the US, ask the creator about international shipping.
Estimated Arrival: November 11, 2021
Have more questions about this item?