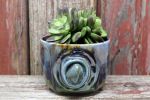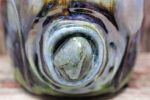 Moss Agate Succulent Pot - Vases & Vessels
This handmade pot was created to be a succulent planter, but I didn't include drainage holes because once that is done, that's all it will ever be. If you choose to use it as a planter, the lack of drainage holes does not limit your location. You can put it on your desk, window sill, counter, or table without fear of water marks. And because it is food safe, your possibilities are truly endless. I chose to include a piece of natural moss agate crystal attached with a permanent epoxy. Moss agate is known as the gardener's stone that promotes a connection to the earth and has grounding energies. It also adds balance and promotes health and vitality in the garden.
Item
Moss Agate Succulent Pot
As seen in
Private Residence
, Harrisburg, PA
Have more questions about this item?