Image credit: David Rozek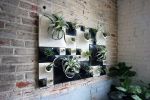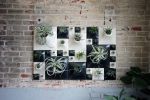 +7

Ceramic wall planter living wall with airplants - Vases & Vessels
Inquire about Comissioning a Custom piece
This Node green wall is installed in a renovated warehouse space, turned residential lofts. The character of the original aesthetic is still prevalent and in places, preserved. This living room interior offered a vibrant clash of color and textures, new and old, which supported The Zebra Node Wall's stark contrast in color.
Included in The Zebra Wall are three 12", three 9", eight 6", and nineteen 3" Node Wall Planters.
They are all hung on screws on a plywood backer board which is affixed to the brick wall which we provided for an additional fee. Populated here with air plants, a range of different plants can be used in these vessels. Modular in design and limitless in possibilities, The Node wall planter is the only green wall product that creates a living wall sculpture.
The Node Collection is a space efficient and sculptural indoor or outdoor modular ceramic wall planter system. Each size in The Node Collection is hung individually with a single screw or Velcro and can be displayed alone or together in groups to create a sculptural living wall. Because of the modular design, various color options, and five different sizes, end users and designers alike can mix and match to create a totally personal and custom arrangement of their own in any quantity, to fit any space, and on any budget. The seemingly infinite arrangement combinations of the various sizes and colors keep this collection extremely fresh, vibrant, and full of new and exciting possibilities.
Patented in The US and Foreign Countries
Have more questions about this item?