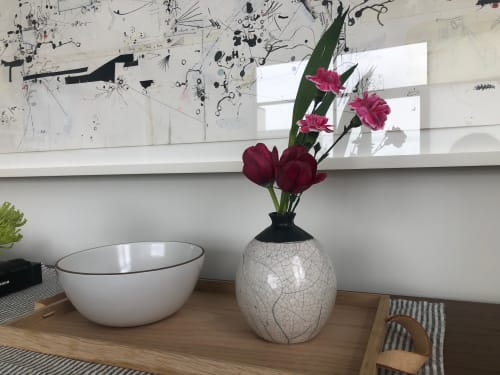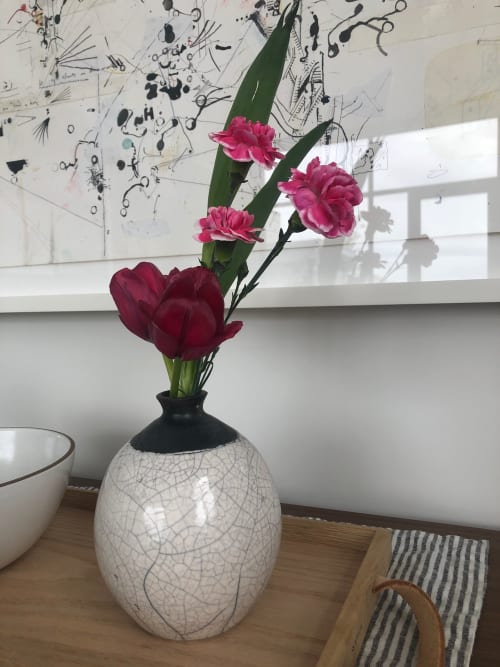 Context & Credits
Item
Bud Vase White Raku Crackle
As seen in
Private Residence
, Brooklyn, NY


+1

Bud Vase White Raku Crackle
Item Details
These beautiful wheel-thrown, stoneware vases are fired using the raku technique with a white crackle finish.
The inside is finished with a water sealant so it can be used with real flowers and water.
They can be bought separately for the listed price or as groupings.
2 vases for $100
3 vases for $155
4 vases for $205
H 5.75"
W 5.5"
L 5.5"
Raku firing produces unique textures and coloring each time.
Please note, items are made by hand and nature. There may be slight variation in form and glaze.
Colors of the item may vary slightly due to computer monitor settings.
Process:
The raku kiln is heated using flame to around 1750°C in about an hour, which is very rapid for pottery firing.
The creation of the many different finishing effects of raku pottery occurs after the pots are removed from the kiln. After removing the kiln lid, the pots are quickly transferred to metal containers that have a layer of combustible material. This material can be anything that burns; dried leaves, strips of newspaper, wood shavings…
After a fire is started, it is essential to cover the containers with a lid. This starves the container of oxygen and allows the glazes to react in a slow burn that is sustained by the residual heat of the pots. The fire sucks all the oxygen from the glaze and then the chemicals and metals in the glaze start to transform. The pots are left in the container for 15-20 minutes and then taken out. The new air can lead the glazes to continue changing. I then decide to let them continue until they naturally stop or spray water to stop the process.
Due to the number of steps involved in the process, only a few pots can be finished with each firing. I have experimented with more pots but found that they lose heat too quickly to effectively bring about the best colors.
The time the kiln lid is removed to the end of the Raku finishing can be frantic, but it is a lot of fun and makes me very connected to the end result!
Please contact for custom made orders and visit our other vases, ceramics and food-safe products at:
www.kingfisherpotters.com