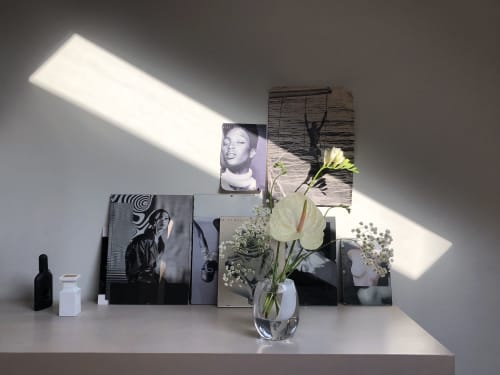 Image credit: Interior Photography by Sabine Mezkaze


+4

Custom Options Available.
Ask The Creator
For Customization.
This small glass vase is a part of Collection Calm designed by Baiba Dzenite, created from free formed mouth-blown glass that reveals the plasticity of this versatile material. It creates fascinating optical effects in various lighting situations. A delicate white line and a unique imprint on the vase's bottom recreate Nature's phenomena of fog and dew. The antique Latvian linen-craft tool was used to achieve this imprint and it has become a distinguishable signature sign of Collection Calm. The employment of this artefact in the creation of Collection Calm invokes one to reflect on timeless relationship between Nature's phenomena and ancient Latvian craft tradition which is expressed in Contemporary Glass Art through symbolic 'imprint of time'.
Dimensions : H12 cm, D10 cm I Weight 1,5 kg | Volume 0,5 l
Each vase is handcrafted from thick crystal clear glass and differs slightly in size, thickness and shape.
Signed
Have more questions about this item?