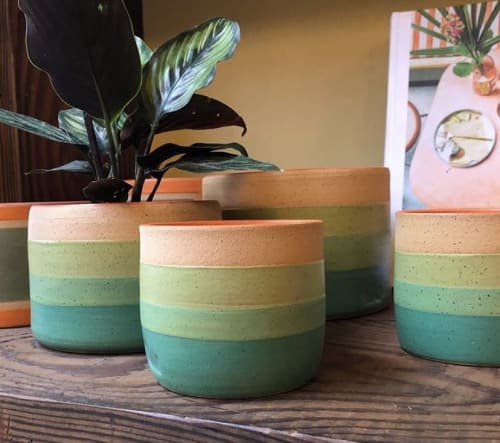 Context & Credits
Item
Green Sunset Planter

+1

Shipping: shipping in the US, ask the creator about international shipping.
Item Details
Wheel-thrown ceramic, hand-painted glaze. Planter includes drainage hole.
Hot green on green action! We love a good layered glaze effect and the Green Sunset has it in spades, with just a touch of orange around the rim to make it extra, well, extra.
Planters have drainage holes so your plants don't drown. Use with a saucer, or water in the sink and place on a cork pad or coaster when it's done dripping so you don't ruin your nice furniture.
Available in three sizes:
Small 3.5" diam x 3" tall
Medium 4.5" diam x 3.5" tall
Large 5.5" diam x 4.5" tall
Minor variations in size, shape, and finish are charming indications that your pot was made by a human being and will make it worth a billion dollars someday on Antiques Roadshow.