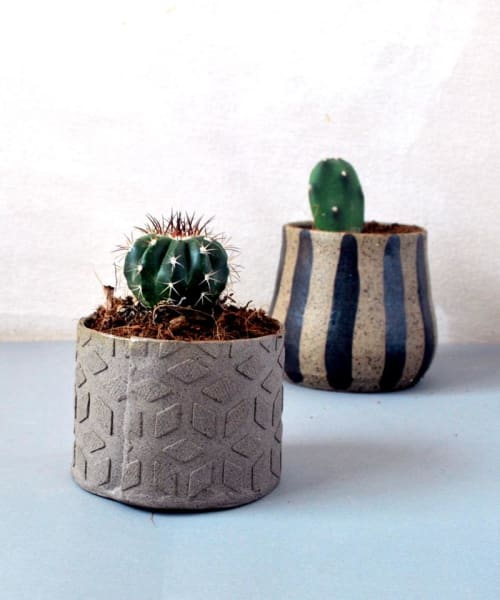 Context & Credits
Item
Small Ceramic Planter
As seen in
Creator's Studio
, Kiryat Gat, Israel

+3

Shipping: Free shipping in the US, ask the creator about international shipping.
Creation time: 3-4 weeks
Custom options available,
ask the creator
for customization.
Item Details
This ceramic cacti planter is made of a geometric textured slab of gray clay, it is a modern planter for your indoors.
This small ceramic planter can add some beautiful rustic touch to any corner at home, lovely minimalist planter.
The planter is without a drainage hole, so please place some pebbles in the bottom of the planter. This will keep the roots up out of any residual water and will help to keep your plant healthy.
The plant is not included in this listing.
DETAILS:
Hand-built from a slab
Matte glaze
Fired in the kiln at 1200 degrees Celsius
Height: 2" //5.5 cm
Diameter: 2-1/2" // 7 cm
Volume 190 ml