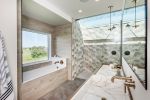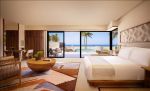 +13

Custom options available, ask the creator for customization.
Hive 3D Engineered Stone Hexagonal HIVE Collection has been installed on exterior trendy Bathroom wall by Haven Builders Inc, design by Charissa Surine with great result.
The engineered Marble 3D Tiles Designs by Giovanni Barbieri are produced, through a laboratory tested process, by recycling marble dust from the production waste refuse thus faithfully reproducing the Travertine and Natural Stone. Suitable for any installation/climate condition especially where Natural Stone is not suggested.
No maintenance. Not absorbent. Laboratory tested unalterable colour from UV radiant.
Hive collection is the result of Hexagonal unexpected versatility shape in a 3D carved-convex version that assimilate each other permitting randomly installation.
Other pictures are about NOBU resort, Cabos San Lucas , Baja California del Sur. Hexagonal tiles are mixed in natural split and etched surface.
Have more questions about this item?