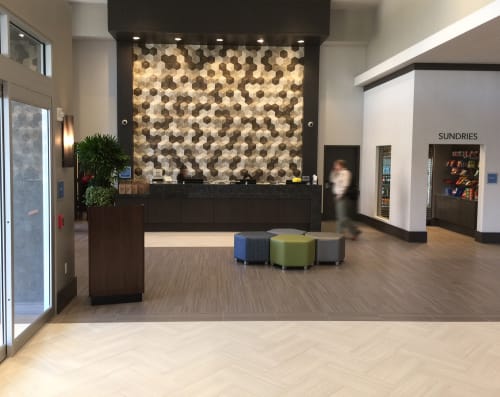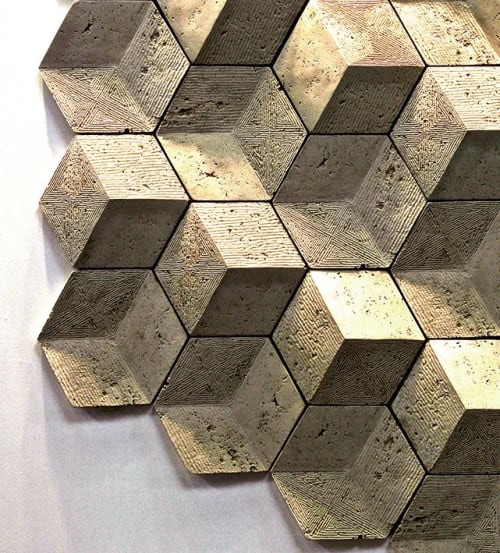 Context & Credits
Item
Hive 3D Hexagonal Tiles

+11

$16
Prices showed are net per SF including packaging ex factory in Ariccia 00040, Rome Italy. Shipping cost is ref. quantity and your ZIP code
Custom options available, ask the creator for customization.
Item Details
Hive 3D Engineered Stone Hexagonal HIVE Collection has been installed on the reception wall on Hilton Embassy Suites. It has been designed by mixing different models by Heather Walenta, Designer, Mitchell Carlson Stone Inc.
The engineered Marble 3D Tiles Designs by Giovanni Barbieri are produced, through a laboratory tested process, by recycling marble dust from the production waste refuse thus faithfully reproducing the Travertine and Natural Stone. Suitable for any installation/climate condition especially where Natural Stone is not suggested.
No maintenance. Not absorbent. Laboratory tested unalterable colour from UV radiant.
Hive collection is the result of Hexagonal unexpected versatility shape in a 3D carved-convex version that assimilate each other permitting randomly installation.