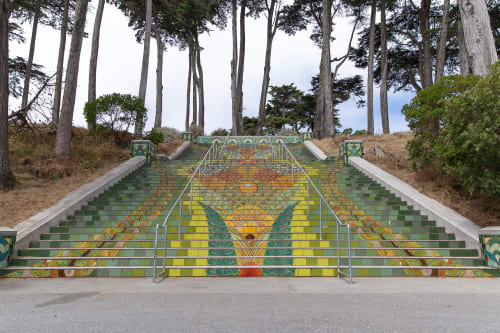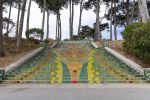 +7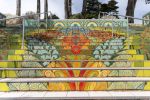 The wide formal stairway with pillars and seating inspired the artist to create a design based on Art Deco patterns. The project was organized by parents from the local school Katherine Burkes, and completed in 2015.
"Working large scale in the public arena allows for the creation of environments where bold design engages the public from a distance and rewards closer observation with textural detail and richness of color. The Lincoln Park Steps are located at the end of of California Street on the outer edge of San Francisco. The stairway is located where the city meets the park and the ocean beyond, where the urban meets the natural environment. The design on the steps reflects this idea, with leaf and floral patterns inviting the community to climb the steps and explore nature." Said the artist Aileen.
Have more questions about this item?