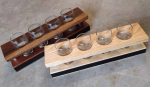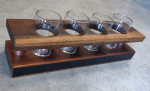 +2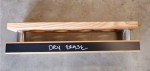 Beer Flight Racks - Tableware
Featured In Vancouver, WA
Available on our website, our Craft Beer (Four Glass) Flight Rack is solid, dependable and built to last.
With the dual level glass holder, you can confidently carry flights onto the Restaurant floor, around the Lounge, Bar & Pub, or around your home for party nights!
We've crafted these flights from two beautiful hardwoods, Ash and a Limited Edition- Roasted French Oak. Colored racks are Ash Wood and available in Green, Yellow, Orange and dark Eggplant.
Accenting the wood is either Copper or polished Aluminum piping that's secured in place with internal hardware. The piping creates the dual level holder to secure the glasses when carrying the flight. This gorgeous two-tiered wood base includes four 5 ounce mini pub glasses.
Each flight has a built-in dry erase chalkboard style section that lets you identify which beer is which.
Have more questions about this item?