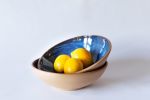 +4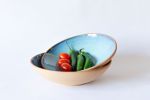 Stoneware Shallow Serving Bowls - Tableware
I threw these 7" wide across the top and 2" high bowls on the wheel with a dark stoneware clay. The Inside is glazed with a combination of two glazes that together make a vibrant indigo and then left the underside unglazed for an enjoyable contrast in texture. Dishwasher and microwave safe.
Shipping: 1-2 days
$15 Shipping in the US, ask the creator about international shipping.
Estimated Arrival: November 11, 2021
Have more questions about this item?