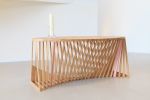 +3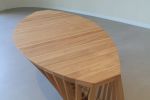 Featured In Nederlands Hervormde Kerk, Maasland, Maasland, Netherlands
Custom options available, ask the creator for customization.
Oakwood altar with its multitude of straight legs creating a double curved surface.
Every line symbolizes a prayer; One line, the simplest of architectonic shapes, is just a line but when a community comes together, everyone unique, a beautiful whole is created.
Have more questions about this item?