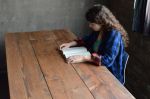 +4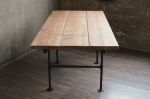 Other People Want This. 5 People Have This In Their Carts Right Now.
Nothing is more industrial than strong black iron pipes. Nothing compliments iron pipes better than sturdy, thick wood. That combination is what gives this table the rugged coolness of the industrial era with the minimalistic simplicity of the modern era.
Each table is handcrafted to order in Portland, OR using thick 1.5" Douglas fir boards individually chosen by our team and 3/4" finished iron piping that will last generations.
The beauty of our wood is then brought to life with our time tested finishing process. The process begins with your choice of three shades of premium wood stain followed by a hand-rubbed finish composed of a proprietary blend of oils. Our oil finish provides excellent protection, preservation, and durability while maintaining the natural beauty of the wood. It does not show fingerprints, requires no upkeep, and is easy to repair if needed.
Length: Your choice of 5 feet, 6 feet, or 7 feet
Width: 34 inches
Height: 31 inches
Shipping: FedEx 2-7 days
$7 Shipping in the US, ask the creator about international shipping.
Estimated Arrival: October 31, 2021
Have more questions about this item?