+2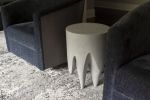 Trade pricing multiple shipping options are available upon request. Custom colors and heights are also available,
Shipping: shipping in the US, ask the creator about international shipping.
Creation time: 3-5 weeks
Custom options available,
ask the creator
for customization.
Item Details
The Dark Matter Side Table is inspired by sonification, the process of creating sound from data. Its shape is articulated through sonified audio clips of traveling stars collected from NASA's public domain. Hand-cast in Brooklyn, NY.