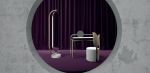 +1

Custom Options Available.
Ask The Creator
For Customization.
Writing desk by day and Vanity Table by night; Roll Desk 02 is a minimal piece with four metal legs supporting a solid wooden top. The top is upholstered in suede or leather for easy and comfortable use. The back legs are sculpted from one continuous loop, which acts as a rest for a loose, wooden-backed mirror which rolls from side to side. Both drawers are lined with a matching suede or leather base panel. Roll desk 02 is available in different wood and metal finishes.
DIMENSION (cm): 104 x 50 x 80 H. Desk H 70
POSSIBLE COSTUMIZATION:
Height
Length
Width
Have more questions about this item?