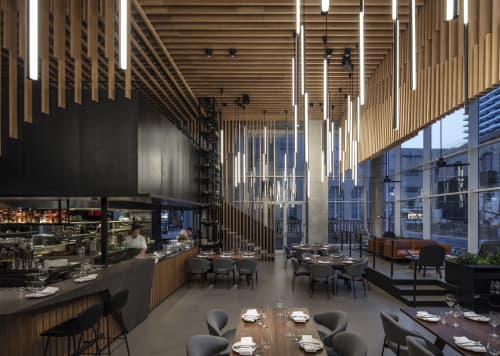 Image credit: Ami Geron/Amit Geron Studio Ltd/L28 culinary platform


+3

L28 culinary platform - Tables
Featured In Tel Aviv-Yafo, Israel
Start-Up Nation Central (SNC), an NGO whose mission is to connect the world to Israeli innovation, has launched L28 Culinary Platform, Israel's first chef accelerator restaurant. The restaurant is located on the ground floor of Start-Up Nation Central's new headquarters, designed by local architecture firm Kimmel Eshkolot Architects. L28 Culinary Platform is operated by Yarzin-Sella Group (Cafe Italia, Magazzino, Taqueria). Named after its address on Tel Aviv's storied Lilienblum Street, the restaurant boasts an innovative culinary concept, which sees a new and promising Israeli chef take up residence in the kitchen every six months.
Architects: Kimmel Eshkolot Architects
Have more questions about this item?