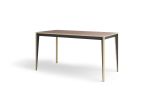 +8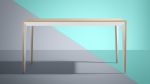 Born from exhaustive experimentation, MiMi Table strives for simplicity, elegance and versatility. The simple angular geometry creates slender proportions, heightened by painted facets that capture different qualities of light and shadow on each side. Measuring 28"" by 56,"" MiMi Table functions as a desk or compact dining table, perfect for urban dwellers living in small apartments. MiMi Table combines the traditional craftsmanship of precision wood joinery with the modern convenience of easy assembly and disassembly. MiMi ships flat and assembles in less than 5 minutes. NYCxDesign 2018 Honoree. German Design Award 2019 Nominee. Made in Italy.
The legs are situated at the corners maximizing legroom. When two tables are placed adjacent to each other–like they might in an office space–two legs become visually one. Also, the modular dimension allows tables to be arranged in multiple configurations, for maximum flexibility.
Shipping: FedEx 7-9 days
$189 Shipping in the US, ask the creator about international shipping.
Estimated Arrival: October 29, 2021
Have more questions about this item?