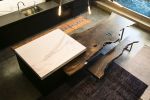 +3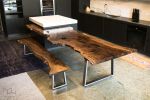 Live Edge Walnut Integrated Island Dining Table
This kitchen island dining table resides in downtown San Francisco in a renovated loft at the Clocktower building. The live edge slab introduced an organic element to add a contrasting focal point to the open, industrial-modern hi-tech room. A bench was made using a slab from the same tree.
Though countless options were available to use for the dining slab, it was integral that we use a piece with prominent character that would stand up to the surrounding room. The piece chosen provides rich color with golden and deep amber hues, bold grain pattern and a unique shape with wild variation. Some natural holes and cracks were also part of the criteria, leaving some unaltered while others were chosen to fill with a clear epoxy. The kitchen island acts as a platform for the slab to slide into.
Have more questions about this item?