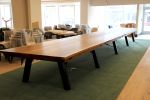 +2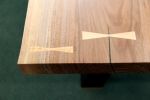 Work Table for TechTown Detroit
Featured In TechTown Detroit, Detroit, MI
Project for McIntosh Poris Architects, created in collaboration with Jennifer Bueso of McIntosh Poris and Brian Dubois of Dubois Atelier. This 30-foot long work table is made from solid Michigan Black Walnut with the "live edge" preserved. The base was custom fabricated by Brian Dubois of Dubois Atelier and is designed to accommodate the integrated power outlets. The "bowtie" inlays are made from Maple and Sycamore to create a contrast with the Walnut top.
Item
Work Table for TechTown Detroit
Have more questions about this item?