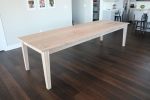 +1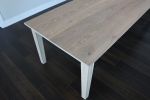 Solid White Oak Shaker Style Dining Table
This listing is for a solid wood shaker style table. This is a handmade, custom item.
Wood Types
We can make this table with many types of wood. For this type of table, we typically use all 1" thick wood.
Here is a list of woods that we can use:
- White Pine (with dark walnut stain)
- Red Oak
- Soft Maple
- Cherry
- Hickory
- Alder
- Black Walnut
- White Oak (pictured)
Table Base
We can make the table base to fit in your home. This table features a wood base, skirt, and square/tapered legs. It is handmade from local hardwoods and softwoods.
Details
The pine selection is finished with a dark stain and clearcoated. All other hardwood selections are finished with a natural finish, which features a 0% VOCs (volatile organic compounds) finish.
The pictured table is finished using a custom stain choice. We are able to choose a variety of other stain or finish options by request! The pictured table in the listing is approximately 30" T x 120" L x 40" W tall table.
The dimensions of your table will vary based on your selected dimensions. It weighs roughly 100+ pounds. Table comes shipped in a crate, some assembly required.
Production Lead Time
Delivery time is currently about 8-12 weeks. Product is handmade and made in the USA.
Have more questions about this item?