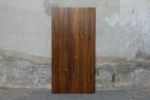 +1

Lurus Straight Edge Dining Tops • Reclaimed Teak / Natural - Tables
The Dining Lurus tops are sleek, modern, and constructed of joined hard wood planks with straight edges.
Material: Reclaimed Teak / Natural Finish
Available in Sizes:
60" x 32"
72" x 36"
84" x 39"
96" x 39"
Details: Bases are sold separately. Find the style that suits your look from the many options shown here: BASES
Have more questions about this item?