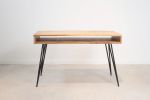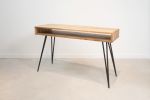 +1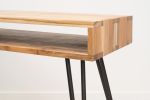 Ciao + Corvus Desk - Tables
This modular storage desk is one of many that can be made from our Ciao Collection tops and various style bases. Hand-made with dovetail joinery, this solid Teak 48" Ciao Box rests on top of 24" Iron Corvus legs.
Top Material: Available in Teak Wood / Natural Finish or Teak Wood / Tinted Finish
Base Material: Iron / Clear Powder Coat
Width: 36" / 48"
Depth: 18"
Height: 29"
Details: Dovetail joinery. Model shown is the 48" Teak wood with natural finish.
Have more questions about this item?