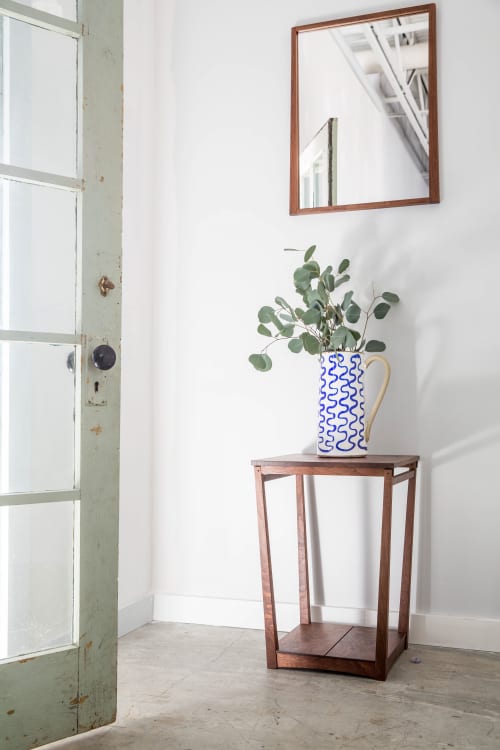 Image credit: Erin Little (on site image), Janice Dunwoody (stylist), J York (studio image)


Custom Options Available.
Ask The Creator
For Customization.
My Tapered Frame side table design came to me after helping some friends work on a timber framing project. I was inspired by the combination of angularity, airiness, and joinery detail in the English style barn frame that I helped cut and erect.
Like that barn, this table is all solid wood. And though open and airy, the table is surprisingly dense in finer details. The reverse- tapered legs of this table grow slender at their tops where they are connected by mortise and tenon and pegged through tenon joints to the slender, offset top rails. The top is 5/8″ with bevelled edges to match the outside angle of the leg in relation to the floor.
The lower shelf of the table is composed of two pieces. This serves both a functional and aesthetic purpose. Because the outside corners of the shelf are precisely fit to the legs, the gap between boards provides necessary room for wood expansion and contraction. The gap also gives a simple, clean visual break to the surface.
The table is pictured with my Tapered Frame mirror above it-- both in walnut. The second image shows another Tapered Frame Table in cerused white oak of which I presently have (2) available.
22 3/4″h x 15 3/4″w x 15 3/4″d
$150 Shipping in the US, ask the creator about international shipping.
Have more questions about this item?