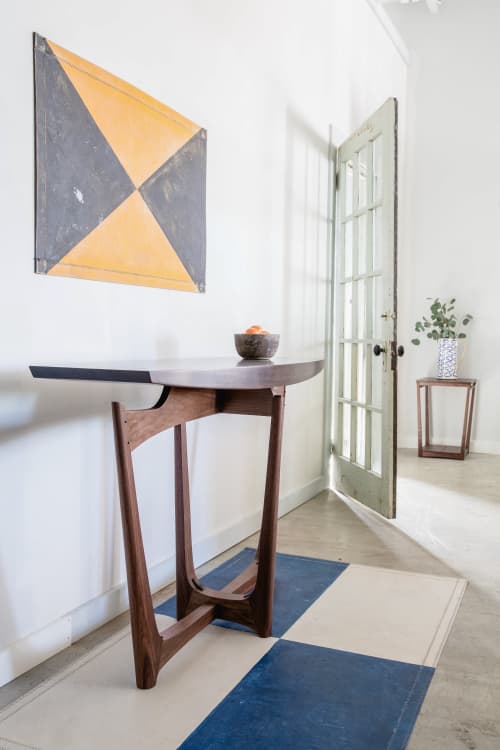 Image credit: Erin Little (on site image), Jay York (studio images)


+5

Custom options available, ask the creator for customization.
The Cirrus 3 is the result of further exploration and refinement of my Cirrus line of tables which began with my original Cirrus Console. It lends at least a small nod to my boatbuilding heritage with its fair, sweeping curves and cradle-like base; it has quickly become one of my most popular designs. It is 32"h x 15"d x 48"w. and pictured in a home along with my Tapered Frame side table.
The sculptural top of the Cirrus3 begins as a solid 3″ piece of mahogany (or other wood - tiger maple is shown amongst studio images). The underside and front edge curves are cut, hand-planed and scraped smooth and the back edge and ends are angled flat. All surfaces are honed to a glass-like finish. The base is hand sculpted and joined with both exposed and concealed mortise and tenons, splines, and exposed blackwood splines and pegs. The mahogany top is dyed black and burnished so the rich mahogany selectively shows through. The tops are finished with either a hand-rubbed oil or sprayed with a resilient conversion varnish depending on preference. Other wood choices beyond the two pictured are also available; please contact me to discuss.
Have more questions about this item?