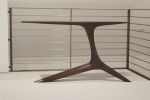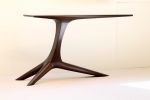 +1

Crane Console Table
Featured In Edgecomb, ME
Custom options available, ask the creator for customization.
The Crane Console table is made from a single plank of genuine mahogany which is cut, joined then hand sculpted to its finished, fluid form. It is ebonized to darken but still allow the rich reds and browns of the mahogany to show through. I t is finished with a lustrous oil/wax finish.
Have more questions about this item?