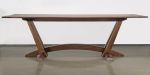 +3

Inquire about Comissioning a Custom piece
The Wise dining table design grew out of my existing Leaning Trestle dining table as a custom design for a client. The larger size of the Wise table allowed space for the curved stretcher that connects the two trestles. The stretcher is notched onto the foot of each trestle and further secured by large pegs made of wenge, before touching the floor at either end. I redesigned the trestles using two large dimensioned, tapered posts. The feet are larger and beautifully hand sculpted to their pictured, elegant forms.
The top of the Wise table consists of a wide border of walnut which is reinforced with wenge splines at the joints. Within the walnut is a 1/4″ border of wenge and then a large expanse of beautiful, quarter sawn bubinga veneer. In the center is an inlayed wenge pattern that I designed to echo both the shapes of the Wise table's base and its Asian feel.
The Wise dining table was featured in the "Designer's Notebook" article of the December 2015 issue of Fine Woodworking that I wrote, along with its predecessor: the Leaning Trestle dining table, as well as other pieces that influenced its design.
Have more questions about this item?